Dr. Sebastián Cervantes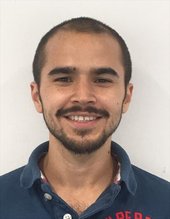 | | |
| --- | --- |
| Address | Pohligstr. 3, 50969 Köln |
| Room | 3.225 |
| Phone | +49 (0)221 470-6132 |
| Fax | +49 (0)221 470-5198 |
| Mail | jcervantuni-koeln.de |
Research Topics and Tools
Space physics, planetary sciences, magnetospheres, geomagnetism, space weather.
Numerical modelling, theory, data assimilation, inversion theory, time series analysis, utilisation of ground-based and space-borne measurements.
Education
11. 2016 - 01.2021: PhD in Computational Physics, Section 2.7 Space Physics and Space Weather, German Research Centre for Geosciences (GFZ), and University of Potsdam (UP), Germany.

Thesis: "Understanding the dynamics of radiation belt electrons by means of data assimilation".

08. 2014 - 06. 2016: Master of Science in Earth and Space Physics and Engineering, Technical University of Denmark (DTU), Denmark.

Thesis: "Empirical model of field-aligned currents and geomagnetic storms".

08. 2008 - 06. 2014: Bachelor of Science in Geophysical Engineering, National Autonomous University of Mexico (UNAM), Mexico, with honors cum laude.

Thesis: "A study of the origin and influence of the external magnetic field disturbances using ground observatory and satellite data".
Links