Research Group Fiedler

Stephanie Fiedler moved to Geomar Kiel - more information
We aim to advance the field of energy meteorology through fundamental research on meteorological processes and climatological assessments relevant for renewable power production and supply. In our research, we combine atmospheric models of different complexity, theoretical approaches, and observations. Our collaborations are inter-disciplinary, e.g., with partners from the German Weather Service and the Institute of Energy Economics (EWI) at the University of Cologne.
Past and future climate change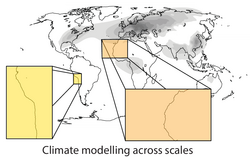 We run climate model simulations on global and regional scales. Our focus is on the hydrological cycle and aerosol effects on climate. Climate models for instance show a spread in estimates of the radiative forcing of anthropogenic aerosols. We assess reasons for the model diversity by developing new tools and help advance our understanding of aerosols in a dynamic system.
Natural and anthropogenic aerosols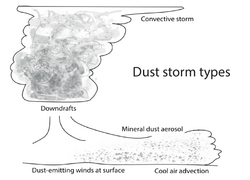 Aerosols are abundant in the atmosphere. These tiny particles are emitted from natural and anthropogenic sources. We are particularly interested in desert-dust aerosols and contribute to a better understanding of dust storm dynamics, their climatology and trends.
Peak winds and storms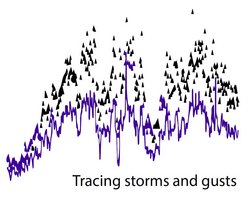 We are working on evaluating atmospheric models with respect to mean winds and gusts in the boundary layer. To this end, we use statistical assessments and novel observations of winds, as well as meteorological process analyses leading to peak winds.
Meteorological risk assessments for renewable power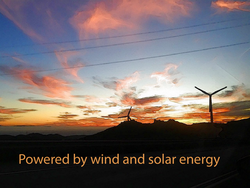 Maintaining the stability and flexibility of the energy system with an increasing share of renewable power is a challenge. We examine meteorological processes important to wind and solar power on different temporal and spatial scales, and assess their balancing potentials across Europe. To this end, we combine measurements and modelling approaches from the physical science basis of energy meteorology to the application of atmospheric data in power models.
Latest publications
Reyers, M., Fiedler, S., Ludwig, P., Böhm, C., Wennrich, V., and Shao, Y., in review: On the importance of moisture conveyor belts from the tropical East Pacific for wetter conditions in the Atacama Desert during the Mid-Pliocene, Clim. Past Discuss. [preprint], https://doi.org/10.5194/cp-2022-72, 2022.

Dhital, S., Kaplan, M. L., Orza, J. A. G., & Fiedler, S., 2022: The extreme North African haboob in October 2008: High-resolution simulation of organized moist convection in the lee of the Atlas, dust recirculation and poleward transport. Journal of Geophysical Research: Atmospheres, 127, e2021JD035858. https://doi.org/10.1029/2021JD035858

Wang, Y., Zhang, J., Trentmann, J., Fiedler, S., Yang, S., Sanchez-Lorenzo, A., Tanaka, K., Yuan, W., and Wild, M., 2022: Observations and implications of diurnal climatology and trends in direct and diffuse solar radiation over China. Journal of Geophysical Research: Atmospheres, 127, e2022JD036769. https://doi.org/10.1029/2022JD036769

Weide Luiz, E. and Fiedler, S., 2022: Spatio-temporal observations of nocturnal low-level jets and impacts on wind power production, Wind Energy Science, https://doi.org/10.5194/wes-7-1575-2022.

Steinheuer, J., Detring, C., Beyrich, F., Löhnert, U., Friederichs, P., and Fiedler, S., 2022: A new scanning scheme and flexible retrieval for mean winds and gusts from Doppler lidar measurements, Atmos. Meas. Tech.,15, 3243–3260, https://doi.org/10.5194/amt-15-3243-2022

Arenas-Díaz, F., Fuentes, B., Reyers, M., Fiedler, S., Böhm, C., Campos, E., Shao, Y., and Bol, R., 2022: Dust and aerosols in the Atacama Desert, Earth-Science Reviews, 226,103925,https://doi.org/10.1016/j.earscirev.2022.103925.

Vogel, A., Alessa, G., Scheele, R., Weber, L., Dubovik, O., North, P., & Fiedler, S. (2022). Uncertainty in aerosol optical depth from modern aerosol-climate models, reanalyses, and satellite products. Journal of Geophysical Research: Atmospheres, 127, e2021JD035483. https://doi.org/10.1029/2021JD035483

Kenny, D. & Fiedler, S., 2022: Which gridded irradiance data is best for modelling photovoltaic power production in Germany? Solar Energy, 232, 444-458, doi: 10.1016/j.solener.2021.12.044.

Boroughani, M., Mohammadi, M., Mirchooli, F., and Fiedler, S., 2022: Assessment of the impact of dust aerosols on crop and water loss in the Great Salt Desert in Iran, Computers and Electronics in Agriculture, 192, 106605, https://doi.org/10.1016/j.compag.2021.106605.

Fiedler, S.; Wyser, K.; Rogelj, J. and van Noije, T., 2021: Radiative effects of reduced aerosol emissions during the COVID-19 pandemic and the future recovery, Atmospheric Research, 264, 105866, https://doi.org/10.1016/j.atmosres.2021.105866.

Dhital, S., Kaplan, M.L., Orza, J.A.G., and Fiedler, S., 2021: Poleward transport of African dust to the Iberian Peninsula organized by a barrier jet and hydraulic jumps: Observations and high-resolution simulation analyses, Atmospheric Environment, 261, 118574, https://doi.org/10.1016/j.atmosenv.2021.118574.

Jones, C.D., Hickman, J.E., Rumbold, S.T., Walton, J., Lamboll, R.D., Skeie, R.B., Fiedler, S., Forster, P., Rogelj, J., et al., 2021: The Climate Response to Emissions Reductions due to COVID‐19: Initial Results from CovidMIP. Geophysical Research Letters, 48, e2020GL091883. https://doi.org/10.1029/2020GL091883.

Thornhill, G., Collins, W., Olivié, D., Skeie, R. B., Archibald, A., Bauer, S., Checa-Garcia, R., Fiedler, S., Folberth, G., Gjermundsen, A., Horowitz, L., Lamarque, J.-F., Michou, M., Mulcahy, J., Nabat, P., Naik, V., O'Connor, F. M., Paulot, F., Schulz, M., Scott, C. E., Séférian, R., Smith, C., Takemura, T., Tilmes, S., Tsigaridis, K., and Weber, J., 2021: Climate-driven chemistry and aerosol feedbacks in CMIP6 Earth system models, Atmos. Chem. Phys., 21, 1105–1126, https://doi.org/10.5194/acp-21-1105-2021.
Fiedler, S., & Putrasahan, D., 2021: How does the North Atlantic SST pattern respond to anthropogenic aerosols in the 1970s and 2000s? Geophysical Research Letters, 48, e2020GL092142. https://doi.org/10.1029/2020GL092142.
van Heerwaarden, C.C., Mol, W.B., Veerman, M.A., Benedict, I., Heusinkveld, B., Knap, W., Kazadzis, S., Kouremeti, N., and Fiedler, S., 2021: Record high solar irradiance in Western Europe during first COVID-19 lockdown largely due to unusual weather, nature Commun Earth Environ 2, 37, https://doi.org/10.1038/s43247-021-00110-0.
Lamboll, R. D., Jones, C. D., Skeie, R. B., Fiedler, S., Samset, B. H., Gillett, N. P., Rogelj, J., and Forster, P. M., 2021: Modifying emissions scenario projections to account for the effects of COVID-19: protocol for CovidMIP, Geosci. Model Dev., 14, 3683–3695, https://doi.org/10.5194/gmd-14-3683-2021.
Kaspar, F., Niermann, D., Borsche, M., Fiedler, S., Keller, J., Potthast, R., Rösch, T., Spangehl, T., and Tinz, B., 2020: Regional atmospheric reanalysis activities at Deutscher Wetterdienst: review of evaluation results and application examples with a focus on renewable energy, Adv. Sci. Res., 17, 115–128, https://doi.org/10.5194/asr-17-115-2020.
Frank, C., Fiedler, S., and Crewell, S., 2020: Balancing potential of natural variability and extremes in photovoltaic and wind energy production for European countries, Renewable Energies, 163, 674-684, https://doi.org/10.1016/j.renene.2020.07.103.
Dhital, S., Kaplan, M. L., Orza, J. A. G., and Fiedler, S., 2020: Atmospheric dynamics of a Saharan dust outbreak over Mindelo, Cape Verde Islands, preceded by Rossby wave breaking: Multiscale observational analyses and simulations. Journal of Geophysical Research: Atmospheres, 125, e2020JD032975. https://doi.org/10.1029/2020JD032975
Fiedler, S., Crueger, T., D'Agostino, R., Peters, K., Becker, T., Leutwyler, D., Paccini, L., Burdanowitz, J., Buehler, S., Uribe, A., Dauhut, T., Dommenget, D., Fraedrich, K., Jungandreas, L., Maher, N., Naumann, A., Rugenstein, M., Sakradzija, M., Schmidt, H., Sielmann, F., Stephan, C., Timmreck, C., Zhu , X. & Stevens, B., 2020: Simulated tropical precipitation assessed across three major phases of the Coupled Model Intercomparison Project (CMIP). Monthly Weather Review, 148, 3653–3680, https://doi.org/10.1175/MWR-D-19-0404.1
Orza, J.A.G., Dhital,S., Fiedler, S., Kaplan,M.L., 2020: Large scale upper-level precursors for dust storm formation over North Africa and poleward transport to the Iberian Peninsula. Part I: An observational analysis, Atmospheric Environment, https://doi.org/10.1016/j.atmosenv.2020.117688
Fiedler, S., Sokolik, I., 2020: Desert-Dust Aerosols, Reference Module in Earth Systems and Environmental sciences, https://doi.org/10.1016/B978-0-12-409548-9.12413-3
Smith, C. J., Kramer, R. J., Myhre, G., Alterskjær, K., Collins, W., Sima, A., Boucher, O., Dufresne, J.-L., Nabat, P., Michou, M., Yukimoto, S., Cole, J., Paynter, D., Shiogama, H., O'Connor, F. M., Robertson, E., Wiltshire, A., Andrews, T., Hannay, C., Miller, R., Nazarenko, L., Kirkevåg, A., Olivié, D., Fiedler, S., Lewinschal, A., Mackallah, C., Dix, M., Pincus, R., and Forster, P. M., 2020: Effective radiative forcing and adjustments in CMIP6 models, Atmos. Chem. Phys., 20, 9591–9618, https://doi.org/10.5194/acp-20-9591-2020.
Bellouin, N, Quaas, J., Gryspeerdt, E., Kinne, S., Stier, P., Watson-Parris, D., Boucher, O., Carslaw, K.S., Christensen, M., Daniau, A.-L., Dufresne, J.-L., Feingold, G., Fiedler, S., Forster, P., Gettelman, A., Haywood, J. M., Lohmann, U., Malavelle, F., Mauritsen, T., McCoy, D.T., Myhre, G., Mülmenstädt, J., Neubauer, D., Possner, A., Rugenstein, M., Sato, Y., Schulz, M., Schwartz, S.E., Sourdeval, O., Storelvmo, T., Toll, V., Winker, D., & Stevens, B., 2020: Bounding global aerosol radiative forcing of climate change, Reviews of Geophysics, 58, e2019RG000660. https://doi.org/10.1029/2019RG000660